QIC: Peanuts
Date: 11/11/2019

PAX: Fastlane, MaYhem (Respect), Oiler, SwipeRight, Vaccine, Early Bird, Walla Walla, Sidekick

AO: Beast Ridge
---
Conditions
Cold. Temps got up to 68 degrees during the day (seems incredible given the weather since) but was a balmy 41 degrees for the Thang
---
COP
SSH x10
Forward Fold x10
Willie Mays Hays x10
Little Baby Arm Circles x10; Reverse x10
Shoulder Press x10
Quad Stretch x10
Calf Stretch x10
Third Grade Exercise x10
Arm Stretch x10
---
The Thang
Mosey over to the soccer field where we count off by 4 and do an old fashioned 4 corners, which unlike Momma's Old Fashioned Pancake Breakfast (which really doesn't include the words "old fashioned" but for some reason I always call it that when ordering) or Uncle Hershel's Favorite Breakfast, it sadly is not the kind of of old fashioned that will make you look like this guy: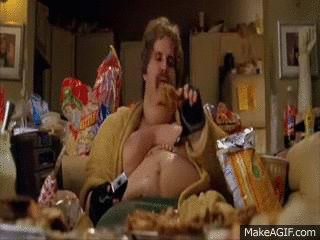 At each corner pax are greeted with another mouthwatering smorgasbord of exercises, the likes of such almost made me need to put on my buffet pants (if your looking to get some they are out of stock):
Corner 1:
Dips
Incline Mercans
Box Jumps
Decline Mercans
Corner 2:
Squats
Lunges
Toe Squats
Monkey Humpers
Corner 3:
SSHs
Imperial Walkers
St. Bernard Squats
Plank Jacks
Corner 4:
LBCs
Flutter Kicks
Hello Dolly Crunches
Pickle Pointers
The pax start out by doing 20 reps at each station and then increase by 5 each round through. In between stations on the short side of the field pax side shuffle to the next station. On the long side of the field pax jailbreak. Finished up with a lap around the field indian-style.
---
COT
It was Veteran's Day. Spoke about the sacrifice soldiers and their families make every day around the world. Deployments last a long time and have a huge effect. You hear the stories about the tours of duty during Vietnam – 365 and a wake up. The problem is that doesn't tell the whole story. You have all the time on the front end preparing for the deployment and all the time on the back end adjusting to being back in the world. I try to tell the soldiers I talk to that a deployment is in reality a 3 year process – there is the year you spend getting ready to go, the year you are gone and the year you spend getting used to being back. That's if your lucky. For lots of folks it takes a lot longer than a year to adjust to being home. Some people never adjust. There are the dudes I know that have deployed 7 or 8 times in the past 15 years. You become consumed by it. Your life becomes defined by firefights, rocket attacks and IEDs. Then you come home and your life is defined by car rider lines, mortgage payments and orthodontist appointments. To try to explain it sometimes seems incomprehensible. The struggle to not become defined by these things that simply do not and cannot relate to normal life is a monumental feat and I believe is truly the biggest sacrifice veterans make.
Sleeping in bunkers night after night waiting for rockets to fall, standing on a wall for hours on end waiting for trucks to blow you up, feeling your ears ring and the earth shake, hearing the taps play….these are things no one wants to see or do, but given the choice every veteran I have ever met would be the first one there, because in the end they know if not us, then who and if not now, then when. They know in their heart of hearts they could not live with the thought of someone else going in their place, standing in their shoes. These are things I hope and pray my children never do or see. These are the sacrifices veterans make each and every day. I guarantee it.
Theirs not reason why,
Theirs but to do and die.
Into the valley of Death
Rode the six hundred.
---
Moleskin
Good to feel the cold weather again with these 8 brothers. Lot more than we had a lot of days last winter at Beast Ridge. Which, btw, IMHO needs to get some good old fashioned (there's that phrase again) feuding brewing with the RidgeCut. If I was a little more tech savvy I would replace the names below with Sidekick and Jazzy Jag. The real question is which is which?

---
News
All the news is old now.

---
Recent Backblasts